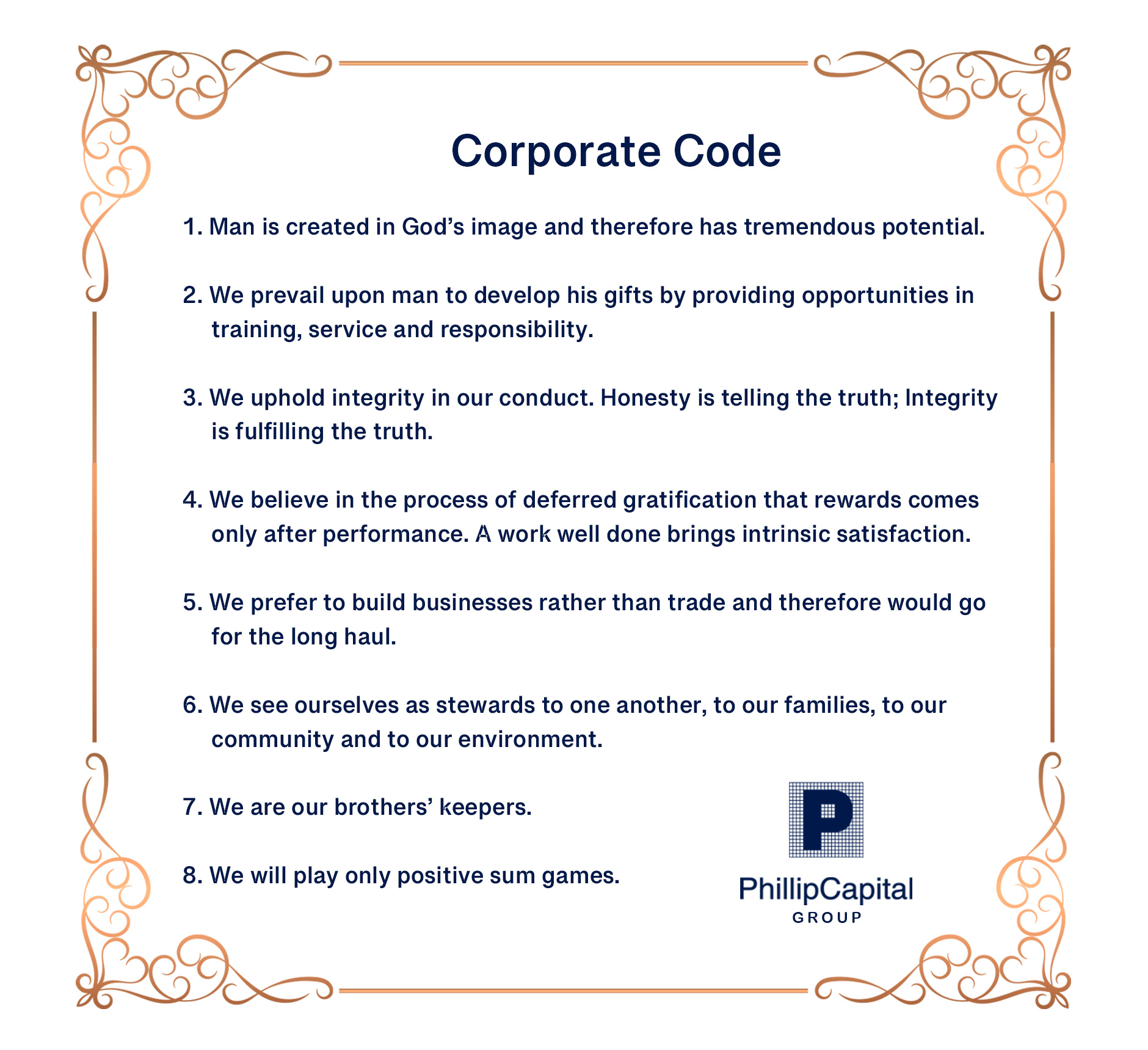 Our corporate responsibility policy is stemmed from our corporate code to see ourselves as stewards to one another  to our families and to our community and environment. The Company has a policy to conduct business with corporate social responsibility and awareness of the importance of supporting social activities, including continually caring for the environment.
Regarding to our intention to work with stakeholders involved, we are ready to build and maintain good relationships arising from mutual acceptance and trust, while also taking into account the impacts that may have on the stakeholders as follows:
PLA Stakeholders Diagram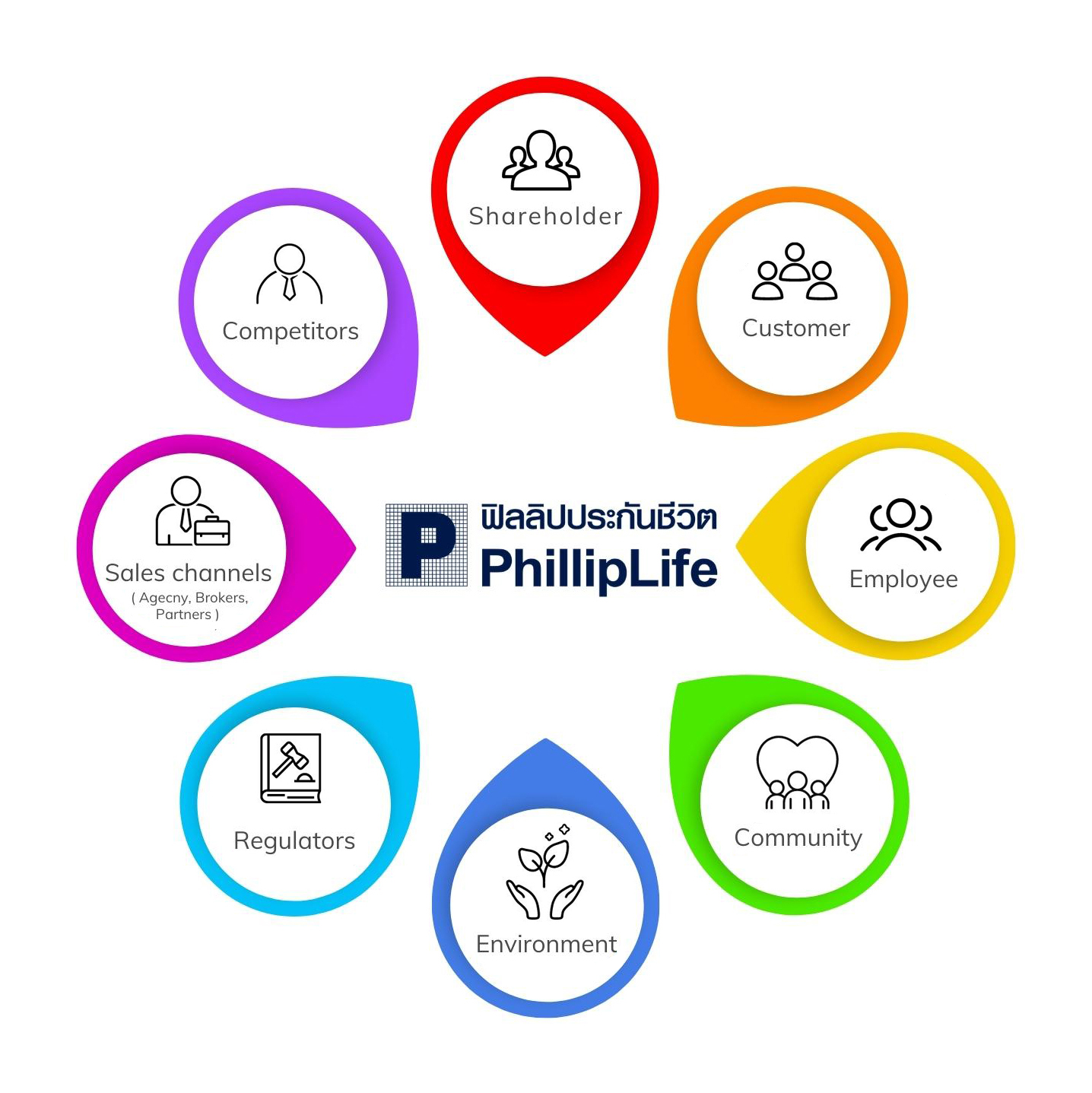 Shareholders
The company is highly committed to continually perform under the principles of good corporate governance including the importance of shareholders' rights and equitable treatment of shareholders.
Customers
The company adheres to customer-centric principles by innovating products and services that meet every customer's needs in order to have insurance and coverage that meet their needs at reasonable premium rates that enhance sustainability.
Employees
Based on our high esteem of men having tremendous responsibility, the company believes in training and providing career and growth opportunities for all employees to use their gifts fully.
Public sector
The company is committed to comply with applicable laws and rules related to business operations and how it affects the public sector.
Competitors
The company shall appropriately behave in accordance with the rules of good competition and will not apply dishonest methods to disrupt its competitors.
Sales Channel e.g Agency Force
The company is committed to provide training, tools and competitive products for the agency to support their sales efforts as well as to future proof their careers in order to build long term sustainability.
The company in principal will refrain from different forms of subsidies as it goes against the principles of sustainability and long term future for the company and sales force.
 Partners
The company shall treat its business partners and/or creditors in accordance with the terms of trade and compliance with the contract by acting in accordance with the rules of good competition and not using dishonest methods.
---
CSR-in-Action
---
 Educational Support  (23 April 2018)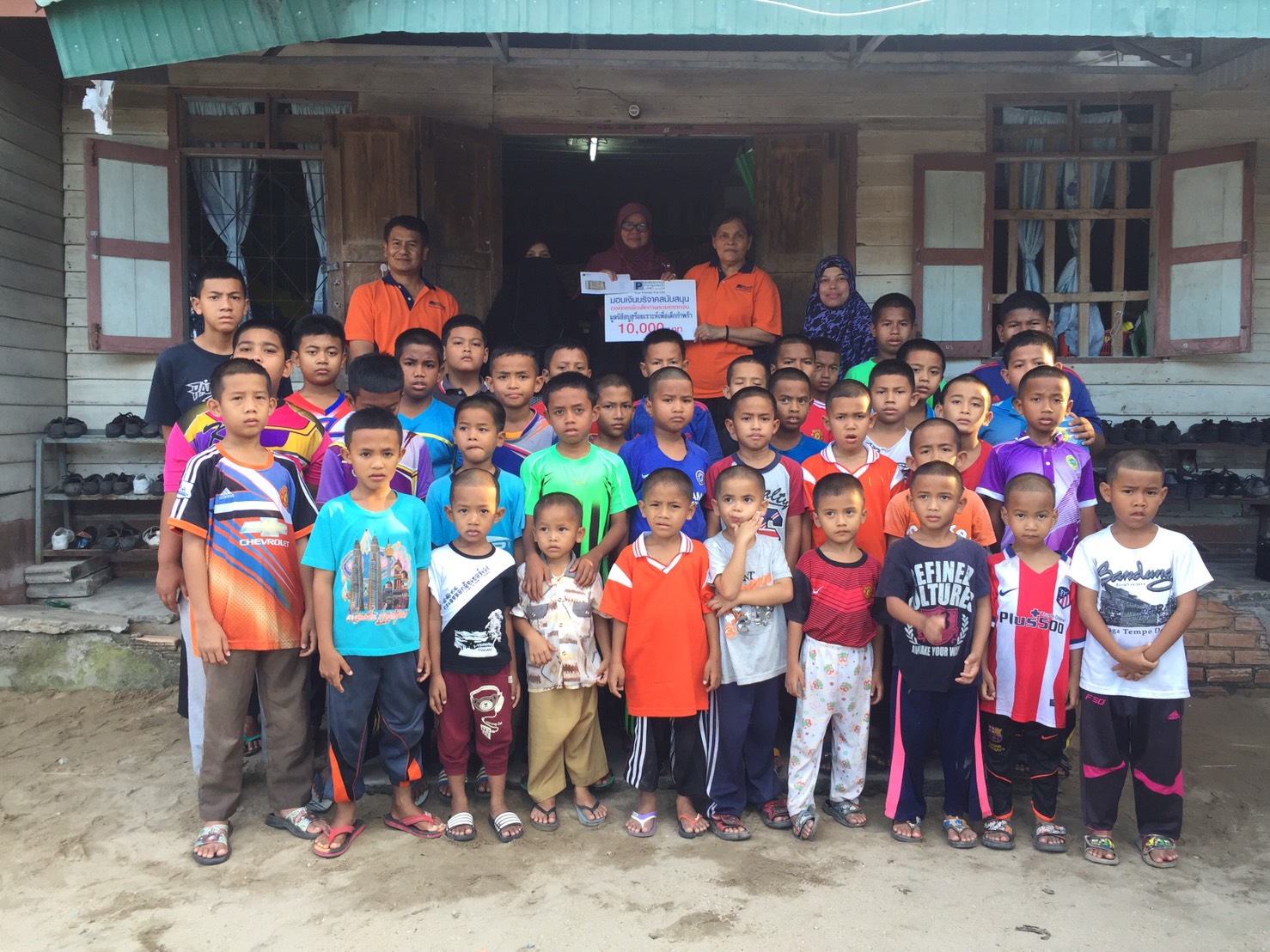 Phillips Life Assurance Pub Co., Ltd. presented a donation to Sumayyah Hayiawae, a representative from Abuhurairah Foundation, to enhance the quality of life for orphans and children who are underprivileged and well-behaved children who live in poverty in the southern region, Bangkok, and surrounding areas.
Health Care (8 October 2021)
The company emphasizes on participating in helping society and giving importance to the development of the nation's youth in the future at the Abuhurairah Foundation, Narathiwat.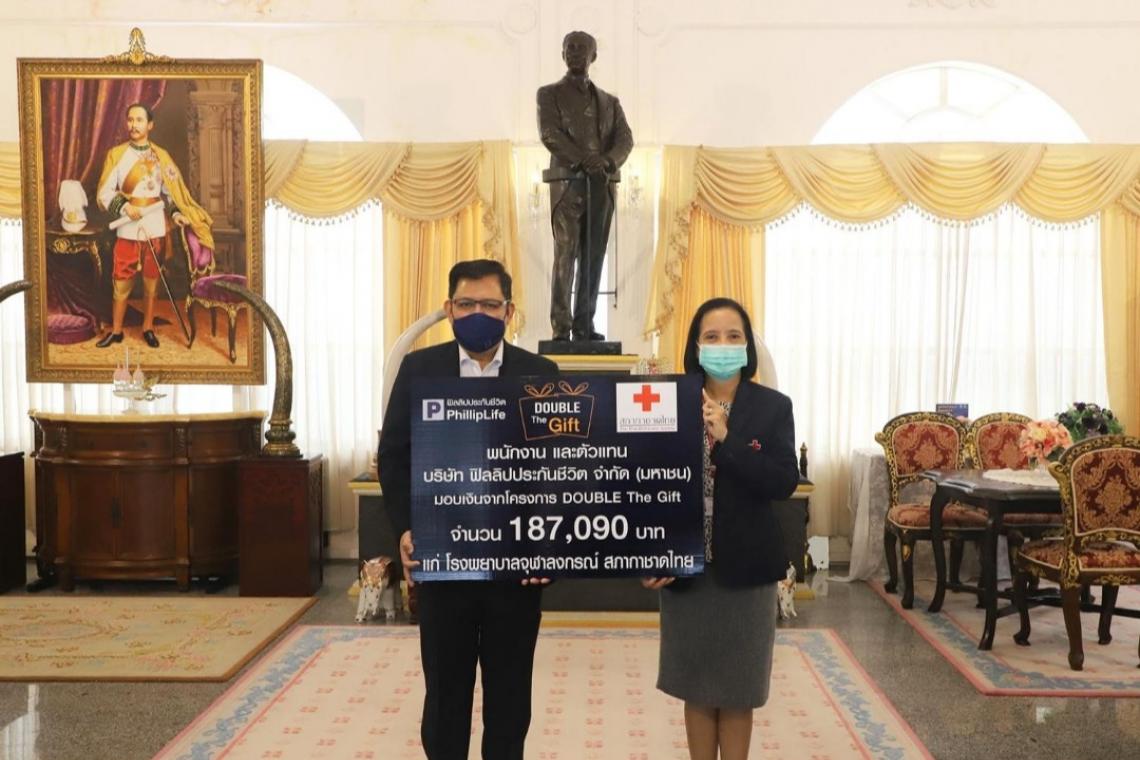 Phillip Life Assurance Public Company Limited presented a donation of 187,090 baht to support medical treatment for patients infected with COVID-19 as for a procurement of medical equipment and medical equipment for Chulalongkorn Hospital,The Thai Red Cross Society, led by Mrs.Anchalee Sothiphan, an Assistant Director of Human Resource Department. In particular, this amount has been donated by the management and representative staff of the company under the Double The Gift project.
Well-being (3 – 4 December 2021)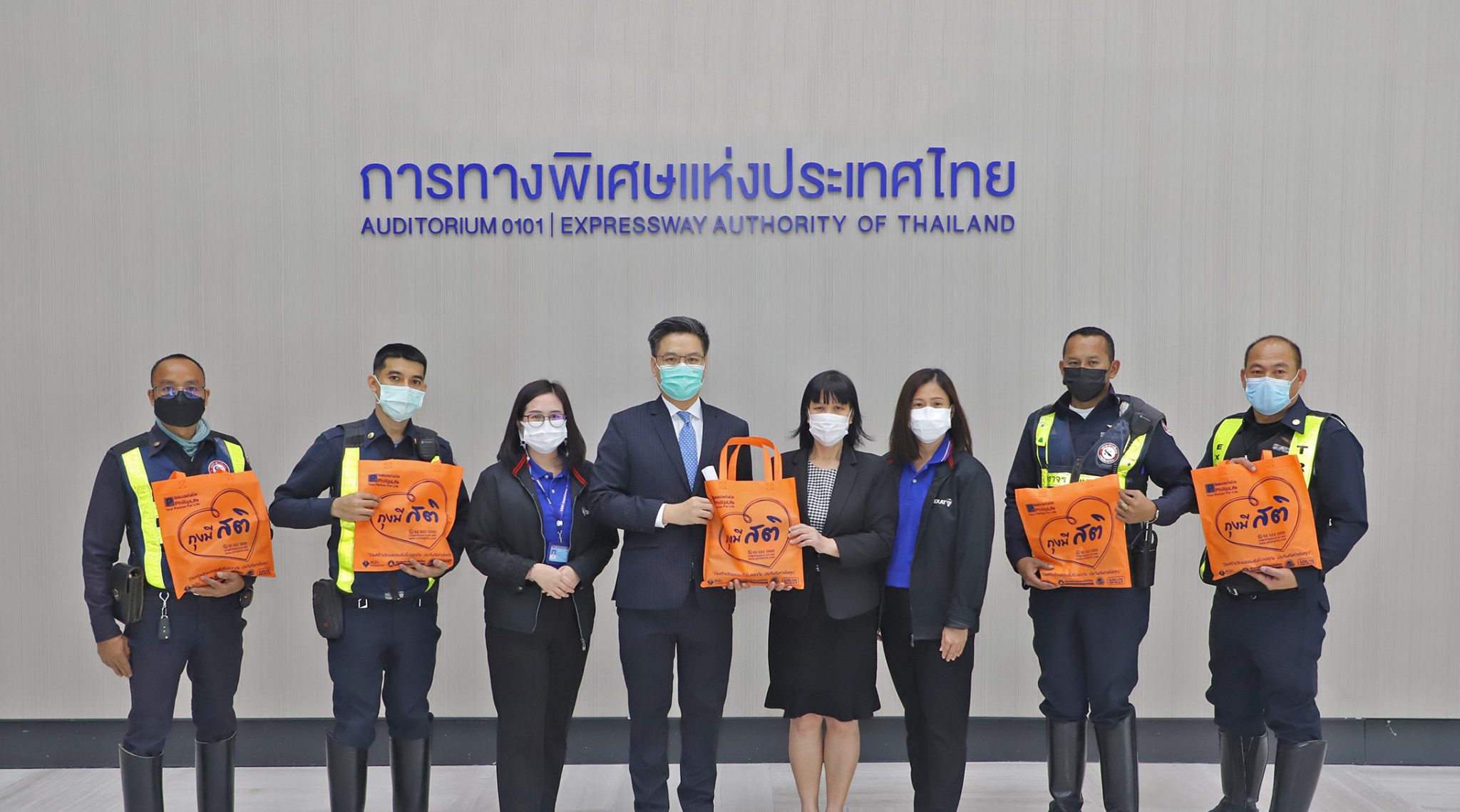 Phillip Life Assurance Public Company Limited one of the marketing partners of the Expressway Authority of Thailand, has delivered 1,000 "Mee Sati Bag" to distribute to expressway users on the occasion of New Year's for travel safety.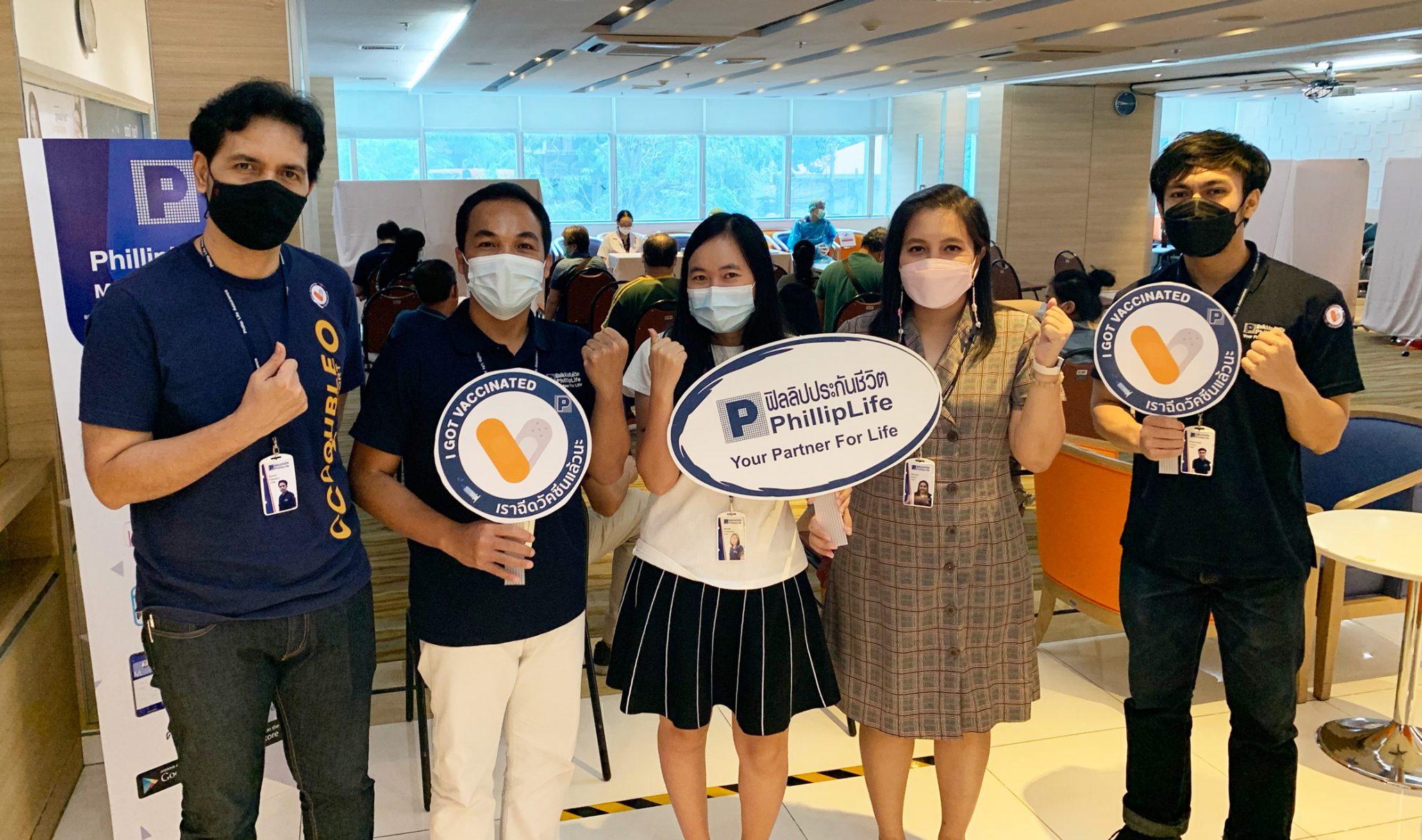 Phillip Life Assurance Company Limited purchased "Sinopharm" alternative COVID-19 Vaccines from Chulabhorn Royal Academy and encouraged employees to get vaccinated in order to build herd immunity amid the COVID-19 situation. Phillip Life committed to safeguarding the health and safety of staff and community.
---
CSR-in-Process
" Here are the longer term initiatives that we believe to promote
sustainability for our business and the environment."

---
Building a company culture of trust and mutual accountability 
Serving customers in financial services since 1975 as part of the Phillipcapital Group,  we know and understand how vital gaining the trust is to all our stakeholders including customers and employees. In order to build this trust throughout the organization, our foremost goal is to continously strive for mutual accountability as our core value.
Our core values being that " We are our brothers keeper" , we strive to ensure that what we do is always good for all parties involved and have the integrity to do what is right.We do this by having frameworks in place with regards to good corporate governance policies for business ethics and code of conduct. We also have processes of base camp in place where we report on our own projects and progress to foster teamwork and mutual accountability.
Towards becoming a paperless office – reduce the use of paper for the environment.

We started a campaign to use eliminate all paper unless deemed compulsory by 2023. The system is based on the concept of reducing the use of paper in a direct way to reduce the publishing of documents and reduce the storage from space to the digital process of a completely paperless office. Besides, the creation of electronic policies (e-Policy) for customers is to reduce the use of paper and increases the speed of policy acquisition. It also securely facilitates the storage of the policies as private information. Having a paperless workflow also enables information to be real time which enhances the service we can provide to customers.
Towards Multi-Product Multi-Channel company to cater for different needs of customers

We are shifting ourselves from a single channel company ( Sales Agency) to a multi channel company ( online, brokers, b2b, partnerships, FA) in order to cater to the growing demands of what the customers want and demands.  We also build products that serve the purposes of protection and investment.
Enhance competence of employees

The Company particularly realizes the importance of human resource development which is a key factor in driving the organization to achieve its goals and success, as well as strives to enhance talent and develop personnel to cover all levels. The company has organized training for employees in various fields by developing skills for current employees to pass on value to the organization under the framework of skill development and advancement opportunities throughout the employee's career path.
Block